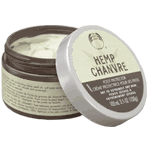 photo credit: The Body Shop
When it comes to foot care, I am all over it. I'm a Pisces and I cannot handle it if my feet are uncomfortable in any way. I am constantly on the search for a great foot moisturizer.
As we shed our socks for warmer weather, we find our feet aren't looking so hot. Mine are calloused and dry. Not so great for sandals. I have an arsenal of foot care products and a basket full of moisturizers for my feet. The one I love for my dry feet the most is from The Body Shop. It's the Hemp Chanvre Foot Protector. It comes in a jar and it's quite thick. The fragrance isn't the best I have to admit. It's a little on the sage side. After awhile of using it and reaping the benefits I actually craved the scent. I love this foot moisturizer. They have other products in the Hemp line, and this is the one everyone should try. $16, at The Body Shop!