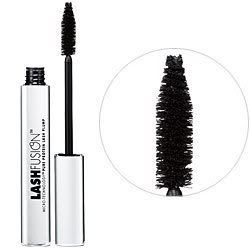 photo credit: Amazon.com
Oh, mascara again!
I felt I really needed to address a high-end mascara. Lash Fusion is $39. *sigh* I had really, really high hopes for this mascara. I've actually had it in my vanity drawer for 2 months. When I first used it I was unimpressed. It came off under my eyes. And then it was hard to get off, which to me doesn't make any sense. I put it away for a little while and tried it again with a primer. No good. I put it away in my drawer thinking maybe I would have some use for it some day.
This morning something struck me to try it again, and it was gross. It was all gloopy and gloppy. When I put it on, my lashes looked like the arms of a starfish. This mascara just isn't for me. In spite of favorable reviews it's gotten from others, it doesn't get one from me.