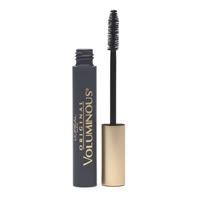 photo credit: drugstore.com
I am a mascara advocate. Even if you like to keep things natural, there is a mascara for you. There's something for everyone. I like believable volume and length and I have found a few mascaras that achieve that for me. The problem is, some of those are a little hard on the budget. Sometimes we just can't justify a $26 mascara, sometimes we can.
During those times when I can't, I buy this little ditty. Loreal Voluminous mascara runs around $5-8, depending on when and where you buy it. Most drugstores have sales on it or coupons for buy one get one free. When that happens I buy 2. It's a great formula I think that rivals some of the big guns in the mascara world. Worth a shot.