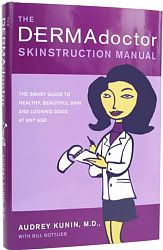 photo credit: dermadoctor.com
I am reading an amazing book right now. It's called The DERMAdoctor Skinstruction Manual by Dr. Audrey Kunin. If you know how to read a coloring book, you can read this book and come to grips with what is going on with your skin.
It covers EVERYTHING you could possibly think of in language we can understand with practical and real world answers. Put down that trashy summer romance novel and read this, you'll love it. You can check it out at the library or purchase it on dermadoctor's website at a reduced price.